Webinars to Help Your Business Grow Online
We are currently planning some upcoming webinars to help you grow your business online. We will have webinars on some of the following topics: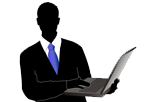 Website Usability Strategies
Search Engine Optimization
Pay-Per-Click Marketing
Social Media Business Strategies
Online Reputation Management
Plus Much more.
If you are interested in an upcoming webinar, simply contact us using the form to the right and we will let you know when we schedule new webinars.
Thank you!