Google & Bing Maps
Google Maps and Bing Maps are a great way for individuals to go find local businesses or organizations whether it be at home or by use of a smart phone.
Never has it been so easy to find hotels, restaurants, home improvement services and many other customer and client needs.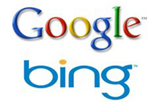 By putting a free listing on Google Maps and Bing Maps, anyone can easily find your business or organization.
These maps assist you in getting high search engine visibility.
If you happen to own an air conditioning repair business, when someone types "air conditioning repair," don't you want them to find you first?
Oklahoma Web Media will help claim your page on Google Maps and Bing Maps and then optimize it for you so customer and clients will find you at the top of all search lists.
Some of the techniques we use to optimize your business or organization on Google Maps and Bing Maps include:
Ensuring all information is complete, including address, phone number, hours of operation, website address and even pictures of your business or organization.
Viable keyword tags included throughout the listing.
We use website optimization, such as state and city keywords in all titles and meta tags
We can include additional information including parking instructions and add videos, staff photos, and coupons.
When it comes to your business or corporation, we will represent it exactly how it appears in real life and list all the information that offers a direct path for customers or clients
If you want to know more about how your business or organization can benefit from Google Maps and Bing Maps, click here to contact us or call us at 405-227-0575.