Mobile Text Message (SMS) Marketing Services
Mobile Marketing by Short Messaging Service (SMS), better known as text messaging, has recently emerged as a cutting edge and efficient way to reach current customers and clients.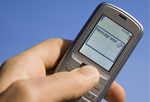 When compared to traditional forms of media, SMS text marketing has demonstrated a high success rate that over 90 percent of all SMS text messages are read by the end user.
This response rate  is significantly higher than other traditional forms of marketing like direct mail, print ads or even email marketing.
The combination of the rate of success along with the increased return on investment for SMS text marketing campaigns has made SMS text messaging services desirable for all types of businesses and organizations.
While it is important for all businesses to have a website and maintain a presence online, it is also important to engage customers in other forms of media, including SMS texting.
You can utilize SMS text messaging for a variety of items, including brand building and awareness, direct-response marketing and even customer service management.
Oklahoma Wed Media offers SMS text messaging services uniquely designed to fit the marketing campaigns of any business large or small. We allow you to maintain focus on the campaign itself without having to worry about sending out messages or using resources you may not have.
Our SMS text messaging services are:
Low cost when compared to mailing and news print
Easy to access and recipients can sign up to get the SMS texts from anywhere
Received instantly by all your customers
Easy and quick to set up
Highly effective in that over 90 percent of all recipients will see them!
A great way to send out coupons and promotions for an extra boost in business.
Click here to contact us or call us today at 405-227-0575 to learn more about how Oklahoma Web Media can assist you with your SMS text messaging marketing!