Online Press Release Campaigns
There is nothing more integral to any business than good press.
An effective online public relations service will build up significant credibility and value for businesses and organizations of all sizes.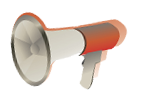 Through the strategic development of expert online press releases, our online public relations service puts your business name out in the spotlight to ensure reporters, journalists, bloggers and all industry insiders know who your company is and what it is up to.
A 2003 study found that over 90 percent of journalists do a majority of their research online to get information. What can this mean for your website?
If you do not already have an online public relations program in place, it means you are missing out on a large number of opportunities to increase business awareness and get your name out in the media.
When you contact Oklahoma Web Media today and use our online public relations service, you will work directly with our team of public relations experts to develop a multi-tiered program that will include optimized online press releases that promotes your business on your website as well as industry portals and news engines.
Our online public relations service can be used in conjunction with other services, including search engine optimization and link building, to further increase awareness.
We use your Expert Information
Online press releases increase media awareness of your business but it can also bring new customers to the business website as well. We continually develop expert press releases that relate directly with your industry. After, we use all our contacts to ensure the press releases show up on major industry websites.
These articles will drive targeted traffic straight to your website
Broadcast what your Business has to say with Online Press Releases
We want to make sure your business is the first name that reporters think of when looking for industry experts. We assist in crafting a number of online press releases every month and distribute them all throughout the internet.
To see how our online public relations service works, including samples of press releases that will increase the visibility of your website, contact us today at 405-227-0575 or contact us by clicking here.