SoonerBounce.com Inflatables
Web Project Overview:
Juston Marshall, owner of Sooner Bounce Inflatables, needed a website that would help him obtain leads for his brand new moonbounce rental company.
Our team went to work and built him a website focused on direct response. His customers can easily contact him from any page on the website to sign up for a rental. Below is a screenshot of the new website: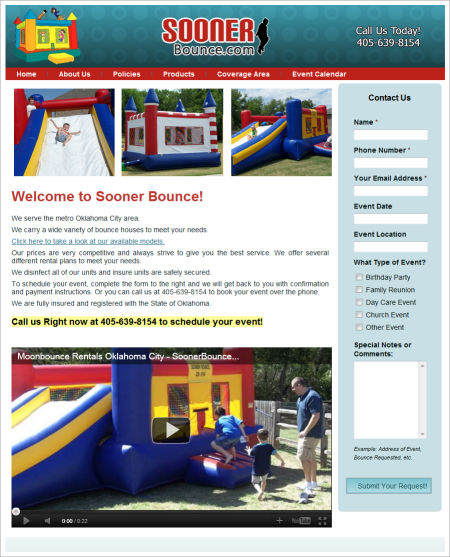 Search Engine Marketing Overview
Once the website project was complete, our focus turned to a SEO campaign for Sooner Bounce. Over the next few months, our team built links to the Sooner Bounce website for its primary keywords using white hat search engine optimization strategies.
Within a few months, Sooner Bounce was getting website visitors from Google and Bing for its primary keywords. See examples below: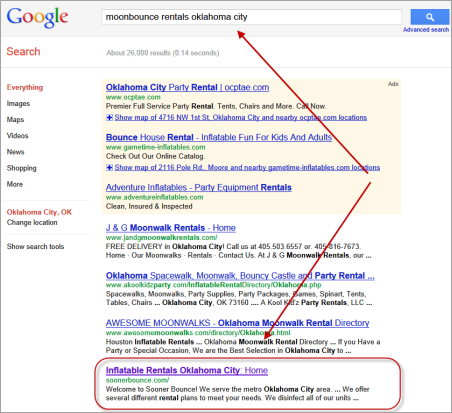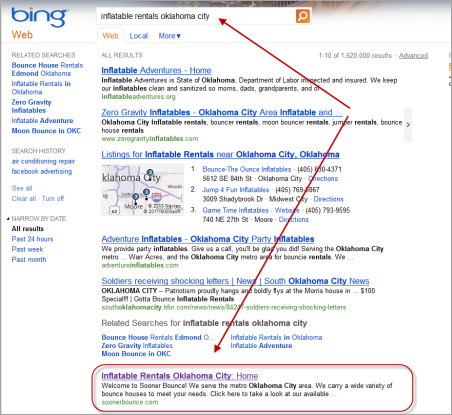 Facebook Advertising Overview
The next online marketing component we implemented for Sooner Bounce was Facebook Advertising.
We created a series of advertisements and strategically placed them using Facebook's amazing advertising platform. In just the first week, the ads for Sooner Bounce were seen by thousands of Oklahoma City area Facebook users that met Sooner Bounce's primary demographics.
Although it is still early in this ad campaign, the early results look to be fantastic. Below is an example of the Facebook advertisement used in the Sooner Bounce campaign: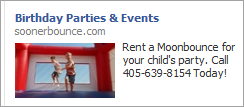 About Sooner Bounce Inflatables
Sooner Bounce is dedicated to providing fun for all. Whether you're a kid or kid at heart, we all deserve to have a little fun every now and then.
Juston Marshall started this company because he's just a big kid who likes to have fun. He said "why not work and have fun doing it".